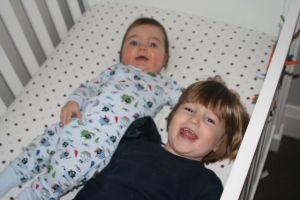 unfortunately, for most families the kids tend to wake up early. this early wake up call is usually okay and totally doable, except for after those nights when you decided to go out and actually act like an adult!! along with adult fun, often comes complete exhaustion and sometimes you may be feeling just a bit under the weather, if you know what i mean!! you anticipate the early morning coming way too fast and the fear of it becomes so dreadful! it's just human nature to basically do anything to get just a little more sleep! they are pure survival tactics! the truth be told we came upon our survival tactic by total accident. truth be told, we haven't actually tried it because we don't have the heart. but, sometimes desperate times call for desperate measures and maybe just maybe one day we will pull this one out of our hat! so, here is what we plan to do in our house on these special nights, if we ever get the balls to actually do it!
hudson, our 3 year old, usually wakes up around 6 or 6:30am. occasionally, he will wake earlier and this is why we decided to make a house rule of 6 am being the earliest you can call for mommy or daddy. when he got in the habit of waking earlier and calling for us, loudly, i decided we needed to come up with a plan to keep him quiet until 6am. for one, we didn't want to get up that early and secondly we didn't want him waking up the baby. hudson will stay in his big boy bed until we come in and has always been trained to do so. he has a little clock by his bed that has a button with a light to see the time in the dark. i explained to him that when he wakes, he needs to check his clock. if there isn't a 6 than he needs to close his eyes and go back to sleep or at the very least lay and chat/sing quietly to himself until the 6 appears. i told him that a 5 on his clock is the middle of the night and he needs to sleep until the morning! this works for us and he is very compliant with our wake-up rules! here is where the trick comes in….one day he must have been playing with the time buttons on his clock and he set the clock back an hour. we had no idea and the next morning i woke on my own around 6:15 and checked the monitor. hudson was in there singing very quietly and chatting to himself like his usual acts when there is a 5 on the clock. i didn't think anything of it and when 6:45 came around i said to my husband, "hudson is being so good! we should go get him and praise him for being so quiet and respectful." so we did and that night when bedtime rolled around, i was sitting and reading books with hudson and happened to glance at the clock. the clock read 4:15 instead of 5:15. no wonder he was so very quiet that morning. he kept checking the clock and seeing the 5 and was patiently waiting for a 6! we felt bad about this at first and then realized how insanely perfect this scenario truly was! we then and there decided that on nights when we knew we would be out late or feeling a bit hazy the next day we could secretly go in that day and set the clock back by 1 hour! it is pure genius and sadly, we can take no credit for it, as it just so happened to fall into our laps one early morning! all of that being said, i am hoping that one day i can be "mean" enough to actually use our trick! chances are probably not, as the guilt is most likely more than we can bare, but at least i know we have a trick up our sleeve if we ever feel we simply have no other option in order to survive! 😉
for those of you who are trying to get your little ones to stay in bed longer or until a certain time there are some things you can try. i DON'T recommend setting the clock back every day, as that is totally unfair and in my mind, sort of like child abuse on a small scale!! there are some fair and kind things you can do to help your little ones be a bit more independant in the early hours. here is one tip if your child doesn't know his/her numbers yet. you can write on a piece of paper the number that they need to match on the clock. it is helpful to put a sticker or tape paper over the last 2 numbers on the clock. this way they only have to focus on one number and the risk for confusion is far less. i know you can also buy alarm clocks that have a moon night light during the night and the sun appears for the hour you set it to be in the morning. i am not a fan of things like this as i don't like using any night lights, etc. while my boys sleep.
anyhow, just a small trick of the trade to help you out in the wee hours of the morning and a little extra help for those mornings you just can't seem to face!