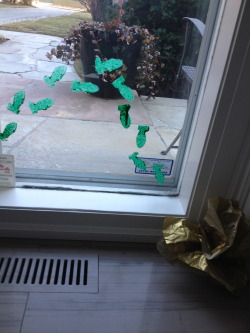 it's that time of year! that time of year where we all read books with our little ones and chat about the reason we wear green on saint patricks day! to avoid being pinched is reason enough to join in on the fun, but i find real joy in making any holiday a grand occasion for my boys! i used to go to these extremes as a teacher and the looks on all 30 kindergartner faces was why i continuted to do it year after year. now that hudson, my eldest, is 3 years old he is very aware of all the "holidays." he is excited about them and therefore, this makes my job such a thrill! if you like to excite your kids and feel like bringing something new to your daily routine this week than you too should have some teeny tiny green footprints come to your house!! it's easy to do, not expensive, and so much fun for everyone! here's what you need:
1) sponge: cut into the shape of a pointy shoe (see photo)
2) green paint: try to get washable and put only on surfaces easy to clean (we stained our back door and windowsill this morning, oops!)
3) gold tissue paper and green ribbon or anything in these holiday colours
4) treats for each day you partake in the fun! (examples: 5 green m&m's, jelly beans or like me i went to the party store and got green goodies. green shamrock ring, bubbles, light up pen, necklace, etc.)
i do this for 1 week, but you don't have to do it for so long if it seems like too much. a couple days would be enough! i save my best treat for last. sometimes i do chocolate gold coins if i can get my shit together in december and remember that i will need them come march! this year i wasn't so good and so a light up shamrock necklace is hudson's big kahuna come st. patrick's day!
when your little one goes to bed each night wrap the next treat in the gold tissue and tie with green ribbon! you will put some leprechaun prints near the goodies for your little one to find the trace and trail of the sneaky green irish man! they are so excited about this whole idea and will spend hours searching for the leprechaun during the week!
we also make a leprachaun trap out of toilet paper rolls and use gold, green, glitter, etc. to try and "entice" the leprachaun. at night tip the trap over in order to make your little one think that they almost caught him and he must have just escaped!
i love this idea as a way to teach them about st. patrick's day! it is cute, fun and for not a lot of effort or money! so hilarious to see the time it takes hudson to clean the footprints each day (such a neat nick) and search for the leprechaun! he did say that he saw the tiny man run by him in a flash today at least 3 times!! their imaginations are wild and this is what makes this experience pure amazment! he went to bed tonight with a huge smile on his face in anticipation for his nightly visitor! wondering will he come back? will he trap him? will he leave anything? it's simply too much fun!