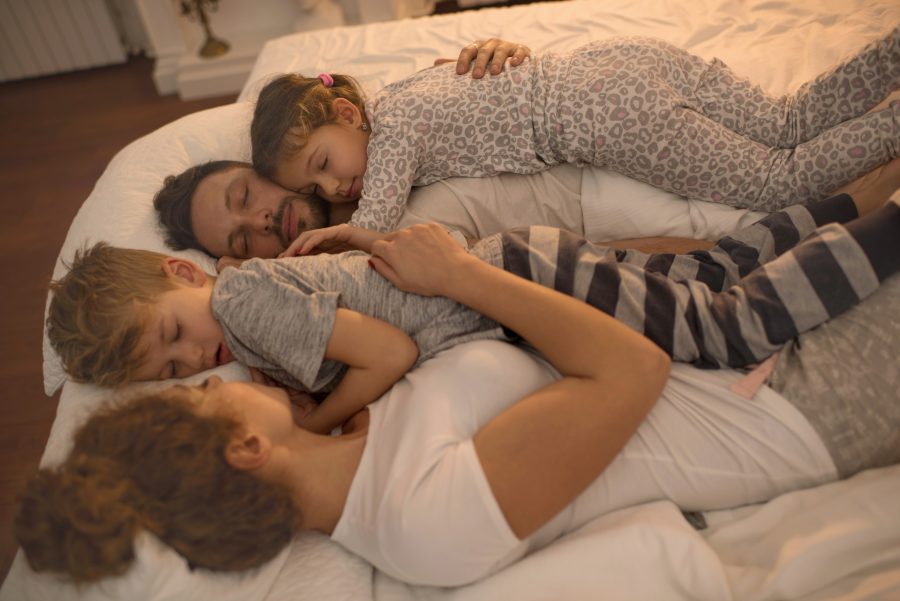 Do you sometimes wonder if you're the only parents out there with kids still getting up multiple times a night?  Are you the only ones with kids who somehow covertly sneak into your bed around 3 am and you wake with a foot in the face?  Are you the only ones who have kids that need you to lay with them, tickle them, and be with them until they fall asleep?  Well, I am here to tell you two things.  One, you are NOT the ONLY ones!  This is happening in more homes than you think.  And, two, EVERYTHING is FIXABLE!
To start this conversation, I want to first state that nothing is a problem, until it is a problem for you.  What may work for others, may not work for you.  What others may find unacceptable, you may find perfectly normal.  Do what feels right to you and what your gut tells you needs to be done.  If your gut is telling you that you want your bed back, you'd like to have your kids sleep through the night,  you'd like your kids to fall asleep independently, then rest assured that EVERYTHING IS FIXABLE!  Let's do this!
Sometimes we find ourselves in these situations and wonder how the heck did we get here?  How did one night of sharing a bed turn into 4 years?  Well, I am here to tell you that unfortunately that's life and life happens.  The good news is that once you want to make a change and takes the first steps, you will see that change is possible.  I am not here to tell you that it will be easy, but I am here to tell that you it can be done.  It's not without 100% commitment, consistency and follow through. But, when you make the commitment to make change and commit to following through then change will occur.  ANYTHING IS FIXABLE!
Change is never easy, even for adults.  Once we have formed certain "bad habits" it isn't easy to break them.  Kids get upset and frustrated that you are rocking their world.  It's during these times when they are crying, resisting change and throwing tantrums that you have to remember that you are doing the right thing by making these changes.  Parenting doesn't always mean pleasing your kids.  It means we need to be parents even though this may be difficult at times.  Our kids need us to be their parents and inflict positive change where change is needed.
I have worked with many clients who have found themselves in similar scenarios that I've mentioned in this article.  They contact me desperate for a good night sleep and to sleep in their bed alone with their partner.  They are overwhelmed and sceptical to begin, but as we make slow, steady changes the transition starts to present itself and they see what's possible.  All of a sudden there is light at the end of the very dark tunnel.   In order to create change it doesn't mean that you have to leave your child to cry for hours on end.  There are numerous solutions and all solutions are moldable to meet the needs and comfort level of individual families.  There can be gentle approaches to help meet the comfort needs for you, your family and still give you a successful outcome.  Tailored sleep plans and parenting solutions to meet all the specific needs for each family.
If you are worried about change, I encourage you to take a step back and think about your current situation.  Do you kids seem well-rested and happy OR are they crabby and irritable?  Do your kids love bedtime OR do they resist?  Do your kids fall asleep unassisted OR do they require you to be with them as their sleep aid?  These questions, amongst others, can help you decide if as a parent, you need to make a change.  A positive change to help create confident, independent sleepers who wake happy, rested and ready to face the day.  Ready to grow and develop to their optimal level both mentally and physically.  Let's Do This!!!!