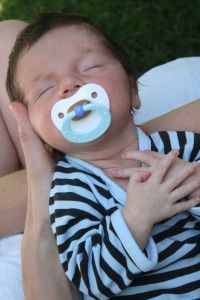 people often think i am completely nuts when i tell them what time my kids go to bed. hudson, my almost 3 year old, will occasionally nap and if so he goes to bed a bit later, but still fairly early in the eyes of most. for example last night, both kids were in a bed and asleep in a matter of minutes by 5:45pm!! this is a little bit of heaven for me since my husband works late. this gives me some time to myself!! something we don't often get when you are spending your time raising little ones. on a day when hudson has a nap he will be in bed and lights out by 6:30 and asleep no later than 7pm.
i find that if your child is fussy in the evening than they are over tired. try putting them to bed sooner, before the fussiness begins. this goes for infants and toddlers. people always ask…."don't they wake up in the night?" "don't they wake up super early?" the answers to these questions are NO they don't wake up in the night and NO they don't wake up super early!! in our household anything past 6am is a great wake-up time as my husband leaves early for work and comes home late. if they weren't up somewhat early than he would never see them. so for us this is a perfect scenario. hudson wakes usually around 6/6:30 and beckett (6 months) wakes around 7/7:30. that means beckett sleeps from 5:30 pm to 7:00 am without waking and without feeding!!
both boys wake happy, spend their days happy and go to bed happy! if you have a fussy baby/child try giving them an earlier bedtime and be sure they get their naps if they are still napping! a well-rested baby/child is a happy one!!