this seems an obvious statement, but lets face it, sometimes the obvious goes in one ear and out the other. i have learned through being a teacher and by parenting, that it is so much easier to let off a bit in terms of discipline, than it is to try and regain it. this is why i strongly encourage you to stick to your guns in all circumstances! whatever you do, don't give it!! once you do, all hell breaks loose! the reason i'm chatting about this today isn't because hudson is having any serious terrible two instances, well at least not this week, but rather because he is sick and something came to mind. i wanted to share with you the importance of having your kids sleep in their own beds!! starting with the age they are in cribs all the way up!!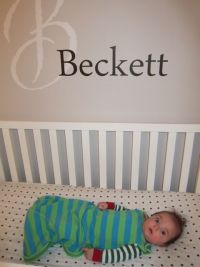 don't let them sleep in your bed or you in theirs after a nightmare, sickness, or whatever clever reason they come up with to conquer this challenge. just don't do it! not even once! once you give in one time, the battle begins. i will go into this topic on many occasions while writing to you in my blog because this is very important in all areas to make and maintain a calm and orderly home with your babies, toddlers, and kids.
for the sake of this blog entry, my 2 1/2 year old, hudson is very sick right now and has been for the past 4 days. he has the works; fever, cough, and a stuffy/runny nose, which of course he refuses to try blowing. last night he woke up with a fever around 3:00 am and said he wanted to come to our bed. in this household, this means play time, since he never sleeps there. the words relax and sleep in regards to mommy and daddy's bed don't go on the same page, let alone in the same novel! he cried when i said no, and of course i felt bad, but we all know what the kid really needs, and that is sleep. so, i laid with him for awhile and helped him cool off with a cool rag, until he was fully in the mind set that our bed was not an option. i then left and he went to sleep. had i given in, he one, wouldn't have slept and therefore we wouldn't have slept and two, he would be getting up tonight, and the next and the next thinking it would be the world's most perfect idea to come to our bed!
until next time take care, stick to your guns and happy parenting!