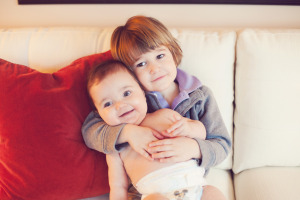 for those of you who have 2 kids or who are about to have 2 kids, i am sure you have witnessed or been wondering about what will happen when the baby comes home and invades the space of your first! this can be a stressful time as you are not only worried about your first, but now your second. you are completely exhausted and are entering a world of the unknown. all of these things combined can cause for a bit of a disaster zone. there are some things you can do to try and make this transition a little bit easier on your toddler and in turn will make life easier for you!
i remember being so sad to deliver the second because i knew my little hudson's world was about to change so drastically. i was constantly thinking about how i was going to manage the 2 together and keep everyone happy. i didn't want hudson to feel less important. feel ignored, second string, or inferior to the baby. i racked my brain for how i would handle this situation, especially with the major needs of a newborn. my husband takes a week at the most and i knew very quickly the morning would come when he would be showering, putting on his tie and walking out the door. yikes!! as the day arrived i realized it wasn't as scary as it seemed. the fear of the unknown was the worst part! i remember feeling so proud at the end of the day when they were both sleeping and my husband walked in the door. i hadn't really done anything but go back and forth between each boy to meet their needs but i had done it and survived! not to mention the 2 boys had survived as well!
during this first day i tried to be very attentive to hudson. ask him to help, chatted with him constantly and most importantly i tried to get on the floor as much as possible. when breastfeeding i sat on the floor to play with him. when changing the baby i had him get his step stool to be my helper. i asked hudson what he wanted to do before i had to feed so we could get all set up in the place he desired. when it was just the 3 of us he was happy as can be, as my attention was focused on him in his eyes. i was still feeding the baby constantly, changing dirty diapers, and holding beckett, but to hudson i was spending my time with him.
i noticed whenever we had visitors or other people in the house he would then act up. my attention was no longer on him, but rather chatting with the guests and holding the baby. this was when he felt unimportant. i wasn't on the floor with him, chatting with him and giving him my attention. these times made it apparent that baby becks was a struggle for him, but by planning my day to interact with him, with beckett in tow, he realized that life wasn't going to be so bad with a new baby brother!
today hudson tells me that he wants to have "yots of babies! 1 sister and yots of brothers!" i won't go this far to have "yots" as he says, but maybe 1 more! time will tell!